Hello, Thursday! I love Friday Eve. There's something different in the air, and everyone seems to be in a good mood.
I am linking up with Annie and Natalie for the first time ever (even though I stalk their link up every week) because I have lots of random thoughts in my head.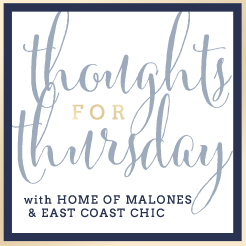 ~~~~~~~~~~~~~~~~~~~~~~~~~~~~~
How is it October? Granted, I am extremely excited to pull out our fall decorations tonight and wrap the kids in Halloween pajamas for the next 31 (+) days (I even dressed Cam in them last night for October-Eve.), but I couldn't believe it when I wrote 10/1 on Louise's slip at day care this morning.
Cam "lighting up" his pajamas last night, so they would glow in the dark!
~~~~~~~~~~~~~~~~~~~~~~~~~~~~~
Cameron is 3.25 years old today. And, he slept without a pacifier for the first time last night. No more little boy. :(
~~~~~~~~~~~~~~~~~~~~~~~~~~~~~
I have been trying so hard to shop for myself and get some new clothes, but I have had little luck, with the exception of a few good finds. I get a Stich Fix delivery today or tomorrow (Dear Lord, please don't let Chad be home when the mailman delivers that!), so I am hoping for one or two "keeps." My problem is that my body is so different after two babies. My boobs and butt are smaller, but my hips are wider. I also think my feet grew a little...I am having a hard time coming to terms with these changes, and it's extremely difficult to shop for this new body! Any other new moms have this issue?
~~~~~~~~~~~~~~~~~~~~~~~~~~~~~
Does anyone else play fantasy football? Chad and I have a team together, and we are undefeated, so far. We have Tom Brady and Rob Gronkowski (both Patriots players), so they get the majority of our points. BUT, they have a bye this weekend, so I have a feeling we may get our first lost.
~~~~~~~~~~~~~~~~~~~~~~~~~~~~~
We haven't been apple picking yet, and I don't think we are going to go. I am allergic to apples, and we are trying to be healthy, so apple pie is out the window. I know it's fun and nostaligic, but what in the world would we do with all of those apples? We took Cam when he was 15 months, and he loved it, but we threw away so many apples.
He was so itty bitty!
~~~~~~~~~~~~~~~~~~~~~~~~~~~~~
I got a new, fresh layout and finally updated my About Us page to include sweet Louise. Life is hectic! I am so happy to be back to blogging a little more!
I think that's enough randomness for now...Happy Friday Eve!!